In the early years of a child's life, fostering a love for learning sets the stage for a lifetime of curiosity and intellectual growth. This essential guide explores the world of early learning activities for toddlers, offering valuable insights and practical advice for parents and caregivers. From understanding toddler development to implementing play-based learning principles, this article will equip you with the knowledge and tools needed to create a nurturing environment that enhances your child's cognitive, social, and emotional development.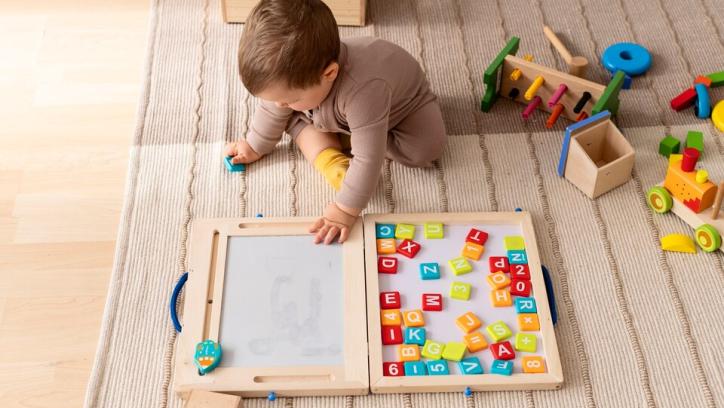 Understanding toddler development
toddlers undergo rapid cognitive, social, and physical development, which lays the foundation for their future learning abilities. Cognitive development involves problem-solving, memory, and language skills. Socially, toddlers start to interact with peers and develop emotional intelligence. Their physical abilities, like fine and gross motor skills, also improve. These developmental stages are crucial to consider when planning early learning activities. By understanding them, caregivers can tailor activities to support and enhance a toddler's growth.
The benefits of early learning
early learning provides a multitude of benefits that have a lasting impact on a child's development. These advantages extend far beyond the toddler years and play a crucial role in shaping a child's future. Let's delve into the benefits of early learning:
1. Cognitive development:
early learning activities stimulate a child's cognitive abilities, including memory, problem-solving, and critical thinking. Through exploration and play, toddlers develop the foundational skills necessary for academic success later in life.
2. Language skills:
engaging in early learning activities, like reading books and engaging in conversations, enhances a child's language skills. It builds vocabulary, improves comprehension, and lays the groundwork for effective communication.
3. Social skills:
group activities and interactions with peers during early learning foster essential social skills. Toddlers learn to share, cooperate, and navigate social dynamics, setting the stage for healthy relationships and teamwork.
4. Emotional intelligence:
early learning provides a safe environment for children to identify and manage their emotions. It helps them develop self-awareness, empathy, and emotional regulation skills, which are crucial for mental well-being.
5. School readiness:
children who engage in early learning activities tend to be better prepared for school. They often exhibit better attention spans, curiosity, and a readiness to learn, making the transition to formal education smoother.
6. Confidence and independence:
early learning activities encourage children to explore and experiment, boosting their confidence and independence. They learn to take initiative, solve problems, and adapt to new situations.
7. Creativity and imagination:
activities that encourage creativity, such as drawing, storytelling, and imaginative play, nurture a child's creativity and imagination. These skills are valuable for both artistic and problem-solving endeavours.
Key principles of early learning activities
effective early learning activities are built upon key principles that maximize a toddler's development and prepare them for future learning. These principles guide caregivers and educators in creating meaningful and engaging experiences for young children.
1. Play-based learning:
play is the primary vehicle for early learning. Toddlers naturally explore their world through play, which allows them to make sense of their surroundings, test ideas, and develop problem-solving skills. Early learning activities should be designed to be fun, interactive, and playful, encouraging children to engage their imagination and creativity.
2. Individualized pace:
each child develops at their own pace. It's essential to tailor early learning activities to the unique needs and abilities of the child. This principle recognizes that children may progress at different rates in various areas of development. Caregivers should observe a child's interests and abilities and adjust activities accordingly, ensuring that the child feels neither rushed nor held back.
3. Nurturing creativity:
creativity is a vital aspect of early learning. Activities should encourage children to express themselves, experiment with ideas, and find innovative solutions. Artistic activities, imaginative play, and open-ended projects all promote creativity, fostering a love for exploration and innovation.
4. Hands-on exploration:
toddlers learn best by actively engaging with their environment. Early learning activities should provide opportunities for hands-on exploration and sensory experiences. Activities like building with blocks, exploring textures, or conducting simple science experiments allow children to investigate, manipulate, and learn through their senses.
5. Positive and supportive environment:
a positive and supportive environment is vital for early learning success. Caregivers and educators should create a safe, encouraging, and nurturing atmosphere where children feel comfortable taking risks and making mistakes. Praise and positive reinforcement help build confidence, motivation, and a positive attitude toward learning.
Practical early learning activities
engaging in practical early learning activities is an effective way to support a toddler's development while making the learning experience enjoyable. Here are practical early learning activities that parents and caregivers can incorporate into their routines:
1. Reading together:
reading is one of the most beneficial early learning activities. Choose age-appropriate books with colourful illustrations and engaging stories. Read to your toddler regularly, making it a special bonding time. Point to pictures, ask questions and encourage your child to participate in the storytelling.
2. Building with blocks:
building with blocks promotes fine motor skills, spatial awareness, and problem-solving abilities. Provide a variety of building materials, such as wooden blocks or soft foam blocks, and let your child explore their creativity by constructing structures.
3. Sensory play:
sensory activities engage multiple senses and support cognitive and emotional development. Create sensory bins with materials like rice, sand, or water. Add toys and objects for exploration, allowing your toddler to touch, feel, and experiment.
4. Arts and crafts:
art activities encourage creativity and fine motor skills. Offer crayons, coloured pencils, finger paints, and various art supplies. Let your child draw, colour, and create their masterpieces.
5. Nature exploration:
exploring nature is a rich source of learning for toddlers. Take nature walks and point out different plants, animals, and natural phenomena. Encourage your child to ask questions and observe the world around them.
Creating a learning-enriched environment
to foster effective early learning, it's essential to make a home environment that encourages exploration and discovery. Having a variety of age-appropriate books and toys readily accessible is a great start. Arrange play spaces that are safe, engaging, and free from distractions. Utilize everyday experiences, like cooking or going for a walk, as opportunities for learning. By enriching the environment, caregivers can facilitate continuous learning in their toddler's daily life.
Conclusion
nurturing a toddler's early learning is a vital investment in their future. By understanding developmental stages, embracing play-based learning, and creating a rich learning environment, caregivers can set the stage for a lifetime of curiosity and knowledge acquisition. Through practical activities and a supportive approach, early learning becomes an enjoyable journey for both toddlers and their caregivers.