Once upon a time, in a small village far away, lived James. James was an honest man and skilled painter. He painted walls, boats, and houses and did his work with honesty and diligence. There were nights when he would go to bed hungry. He would work all day and be satisfied with whatever he earned.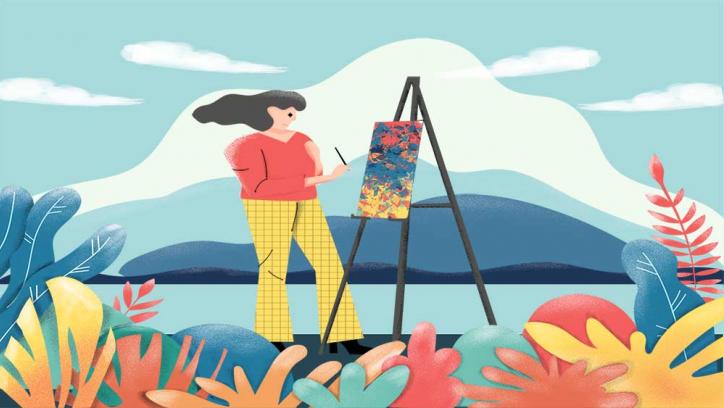 One fine day, a rich businessman came for a visit. He and his family had planned for a short stay in the village. The businessman entered the village in the most expensive cart. And many more carts followed him. They were full of fruits and clothes. The villagers stood in awe as the entire procession passed right in front of them.
The following day, The Businessman called for James. As James walked to the Businessman's house, he met his friend, Tom.
Tom said, "Hey, James! Where are you going?"
James said," Hello, Tom. I am going to the Businessman's house. He has some work for me."
Tom said," Listen, he is a very wealthy man. This is a good opportunity. You must charge him more than what you charge others. It's only fair. And I am sure he won't mind paying you."
James said," No, Tom. It's not fair. I can't charge him more than I charge others. That's cheating! If he likes my work, then he can decide to pay me more. But I have to be honest and tell him the right price."
Tom said," I am your friend, James. I respect your honesty. But honesty alone cannot feed you. You work so hard but people in this village will never have enough money to pay you. Take my advice. You should ask for at least five hundred bucks for the work he has for you."
James was shocked and said, "Five hundred bucks? NO! I have never charged five hundred bucks to anyone! I understand your concern, my friend. And thank you for caring about me. But I have been doing just fine with whatever I earn."
"Well... I did my part. It's up to you now."
James waved goodbye to his friend and walked ahead. As James entered the house of Businessman, he was mesmerized. It was nothing less than a palace.
"Oh, hello! You must be James - The Painter!" said Businessman.
James said, "Yes, I am, Sir. You had some work for me? "
The businessman said, "Oh, yes! The caretaker for my boat has gone out. He will be back only by tomorrow afternoon. But I need the boat to get painted. Will you be able to paint it by tonight?"
"Yes, I can", said James. "Where is the boat? I will get started right away."
"But you never told me how much it will cost." said Businessman.
"I charge one hundred bucks to paint a boat", said James.
The businessman laughed and said," Only a hundred bucks! That's it. You can have a hundred bucks right away and that boat is near the river. You can call me when it is done."
He handed over a hundred bucks to James. He took the coins and went to the paint shop. He bought paint for the boat and went straight towards the river, where the boat of Businessman was present.
As he was about to begin, he saw that the boat had a hole in the center. He thought it could be dangerous. So, he filled the whole first. Then he painted the boat. He worked for hours without eating anything. He left and called the businessman to see the boat.
After seeing the boat. The businessman said, "Oh! This is wonderful! You work well, James. Here take these thirty bucks. You deserve it. If I have anything else to paint, I will call you at once."
James said, "You are a generous man, Sir. I shall leave now."
The next morning, the businessman's family went for a ride in the boat. The Businessman waved goodbye to them at the river and went back home. As he reached, he saw the boat's caretaker walking towards him.
The caretaker said, "Sir, you are here a week early."
"Oh! Yes, my family insisted to see the village. They just left for their trip in the boat."
The caretaker said, "What! No! We have to call them back. Right now!
The businessman said, "Why are you so worried?"
The caretaker said, "There is a hole in the boat.  Your family will drown. I was going to repair it today."
The businessman became worried. The Businessman and the caretaker rushed towards the river. But the boat was nowhere to be seen. They searched for hours. They shouted their names. But there was no response. The Businessman knelt there and cried.
The businessman said, "What have I done! My family! I should have never let them on the boat."
Just as he sat there blaming himself, her wife and kids returned in the same boat. Her wife said," What happened, my dear? Why are you crying?"
The businessman said," you are all safe! I was so worried. There was a big hole in the boat. I thought I have lost you."
She said," But there was no hole in the boat. It's as good as new."
The caretaker said, "I'm glad that you are all safe. But I don't understand how that is possible? I know for a fact that there was a big hole right in the center of the boat. I didn't get a chance to repair it before I left. Who repaired it?"
The businessman thought for a while. He then understood what had happened and immediately sent to call James the painter. James came to the businessman's house.
The Businessman gave him a bag of twenty thousand dollars and said," This is your reward, James."
James was surprised and said, "Reward! Reward for what?"
The businessman said," Reward for your honesty and hard work. You saved my family's life. You filled up the hole in the boat. That was not your job. And you didn't even charge me for that."
James couldn't believe his fate. Just yesterday, he was a painter who could earn just enough to survive. But today, he had owned gold. 
MORAL LESSON
Honesty is the best policy.